My Therapist is an Alien!
Sev Tok Hosts
MUFON Executive Cmte ERT,
Asst State Director NC
Join Sev and her Special Guests for a presentation and Q&A regarding the mental, spiritual, and physical effects of direct ET Contact. If you are an Experiencer or are curious about the topic, we invite you to join us to learn, share, and consciously expand. The purpose of MUFON's Experiencer Resource Team (ERT) will be explained, along with some true ET Contact stories from the ERT archives.
Special Guests:
Dr. George Medich, ERT Director
Earl Grey Anderson, Executive Committee ERT, State Director of California

Kathleen Marden, ERT Founder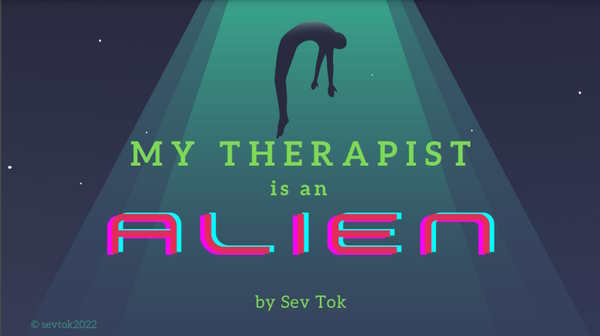 Sev Tok is a Speaker, Author, Ufologist, and Experiencer Advocate.
Originally from Istanbul, Turkey, she emigrated to the US as a a little girl, not knowing English as she started first grade, and earned a Bachelor of Science degree in Biology from Loyola University.
Sev moved to the Inner Banks of North Carolina in 2017 and had a life-altering experience the second night she arrived. She came face-to-face with Greys who burned two red X marks into her back. Sev's ET Contact started at age 10, but she kept it hidden until she moved to the Inner Banks. She "came out" in 2018 as a Speaker at AlienCon and through her book, You Have The Right To Talk To Aliens, endorsed by renowned UFO Researcher, Kathleen Marden.
Sev is featured in the Canadian TV docuseries, Encounter: UFO – Physical Contact. She is interviewed around the world, and speaks at international conferences. She was the Master of Ceremonies at MUFON's International Symposium 2022 and is MUFON's (Mutual UFO Network) Assistant State Director for North Carolina, a Field Investigator, and on the Executive Committee of the Experiencer Resource Team.
As an Experiencer Advocate, Sev helps Experiencers around the world. She also offers personal and private guidance to Experiencers through Tell Me Your ET Story on her website, planetsev.com, and her YouTube channel Alien Spirit.
A planet and star system is named after her in the STAR WARS Galactic System! You can find the Sev Tok Star System and Planet in Wookieepedia. You may have heard her planet mentioned in an episode of Star Wars: Andor.
Sev lives on the Inner Banks of North Carolina, in the coastal village of Oriental.
You Have The Right To Talk To Aliens on Amazon
George is the ERT Team Director. George is a former professional athlete who spent 10 years in the Major Leagues as a pitcher for the New York Yankees, Pittsburgh Pirates, Texas Rangers, and Milwaukee Brewers. During the off season, while playing professional baseball he attended the University Of Pittsburgh School Of Medicine. After completing his baseball career in 1982, he did an orthopedic residency at the University of Pittsburgh followed by a Sports Medicine Fellowship with Dr. James Andrews in Birmingham, Alabama.
After retirement from clinical practice, he pursued his love of astronomy becoming an amateur astronomer supplemented by university courses in Astrophysics. His curiosity about the UFO phenomenon led to his Field Investigator training with MUFON and an appointment as a Section State Director for Pennsylvania and ERT member. He also participated on MUFON's Anomalous Foreign Body Removal Protocol Team. His interest in alien abduction was fostered by years of medical practice, a strong background in physics and astronomy and an interest in UFO phenomena.
Earl Grey Anderson is the Mutual UFO Network's State Director of Southern California, Chief Field Investigator, member of MUFON's STAR Team, and executive committee member of MUFON's ERT: Experiencer Resource Team. In his work with MUFON, Anderson has closed a plethora of High Strangeness cases, one of which was presented in MUFON's "Cases of the Year" at the 2021 Symposium. Anderson feels that the Experiencer Phenomenon is the beating heart of ufology. He explains, "If we wish to understand this phenomenon, we need to listen to those who have had face-to-face encounters." Anderson teaches an accredited course in ufology at Otis College of Art and Design in Los Angeles.
Kathleen Marden has spent most of her life seeking answers to the perplexing nature of ET contact through investigation, social research, and experimentation. She is widely considered one of the leading UFO contact researchers of our time. She joined MUFON in 1991, is the former director of field investigator training, and the founder, retired director, and present consultant to the ERT. She is a hypnosis practitioner, experiencer advocate, and support group host. She has worked on three comprehensive studies on nearly 5,000 experiencers and has six professionally published books. In 2021, the International UFO Congress honored her with its "Lifetime Achievement Award". You may have seen her on "Ancient Aliens" or any of a number of television programs on the History, Travel, Science, and Fox Network channels, or on several documentary movies. Order autographed copies of her books or read her essays at